Newswears Digital Chestvest is a simple design that can carry heavy weight well and distribute it over your body

A fantastic piece of kit that is ideal for extending carrying capacity that is often the problem for the digital photographer, especialy when you need to add a laptop and additional items to your gear. You can use it with a photo rucksack like the Lowepro models: Stealth AW (takes a laptop), Orion, trekker, Rover AW and Dryzone as well as the Computreker and a host of others. It still works with a conventional camera bag or you can add an optional Laptop/notebook satchel for remote wiring jobs. In hot environments it can be used with a hydration system with ease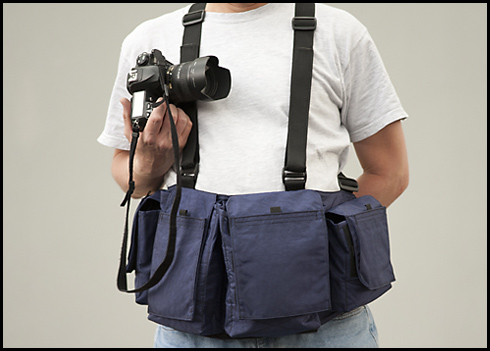 It's a simple layout that does not get in the way or snag easily, but it may be a disadvantage if you have to belly down in the dirt for that low angle shot. That said it allows you to sit in a car and wear it or ride a bike/motorcycle without hindrance. The shoulder straps can raise or lower the pouches so they are more around your waist or up higher on your chest.

It is ideally suited for photojournalists, documentary and sports photographers who need to be able to move fast and have access to their gear, fast. The Chestvest is a must have on long protests or riot situations due to its low profile that is not as likely to snag like a camera bag in a tussle.
It may also be of benefit for those who like to hike and carry a camera and have access to them and associated gear as you can wear it comfortably with a rucksack. Photographers who cover extreme sports, endurance races or where any scrambling and climbing is involved will also find the Chestvest a valuable aid in carrying your gear and is probably useful in boats as well especially the all-weather version of the Chestvest

One disadvantage I did find is the additional pockets on the pouch flaps, these Velcro securely keeping in the contents, but dirt and rain runs straight in to these, so I don't put in anything that will be damaged by rain or water and they could do with an additional "pocket flap" over the top.

Newswear do however do an all weather version at a slight additional cost which might be ideal for the old (pre climate change) British climate. Also in their range are press pouches, body pouches, rain covers, Womens chestvest and a documentary chestvest for use with smaller cameras and less gear.


The Chestvest has a lot of Velcro on the pockets which is noisy and to open, but secure and if you are covering a job where the noise my distract, I suggest opening the pocket and tucking the flap between your body and the Chestvest.

In use it is a very comfy option; shoulders and back had a wave of relief run through them as the weight is very well distributed and eases all the back, neck and shoulder pain problems we get from carrying a bag full of glass. It is so comfy I don't think I can go back to using a conventional bag or rucksack, even carrying one strap over your shoulder like a bag is more comfortable than an actual camera bag is, as the pouches are close to your body and wrap around.

I did have one concern with the Chestvest and that was walking around Whitechaple, in London there are a fair few mosques and I was concerned that the Chestvest could be mistaken for a suicide bombers rig and being shot at by the Met. I would think very carefully if you are going to any country where you might be mistaken for a para military as the Chestvest could be confused for military personal combat equipment and use the "press" blue and grey as opposed to the black colour. This however is not a design flaw in the Chestvest, but more a "flaw" in our societies we move in. The Chestvest should have no problem at being used with most body armour when worn over the top and straps could easily be extended with a bit of D.I.Y if needed

Available in Black and a Navy Blue/Grey combination
Designed for the photographer who wants to pack a lot of gear. In addition you can use a camera bag over the shoulder or laptop satchel; It works really well with the Lowepro Stealth AW Rucksack as it adds easy access to essential gear leaving equipment that you are not likely to use in the backpack. Other rucksacks could also offer versatility and the Chestvest adds great functionality with a daysack for walking

Four main compartments are supplemented by four more accessory pockets inside each flap.
It has a hidden pocket for things like id or Press Credentials, but is not suitable for a wallet as it is too small.

Extra large pockets allow storage of up to 3 Digital Camera bodies plus lenses. I found it will take a D2x plus a D70/80 size camera

The two centre pockets fit most telephoto lenses like the Nikon 2.8 80-200mm zoom lens and the 300mm F4 as well as the Canon 70-200mm 2.8 zoom lens and the 300mm F4 telephoto and even the newer Canon 300mm 2.8 lens.
Camera weight is distributed over a number of areas including the chest, back, waist, and shoulders, freeing your body from stress points caused by traditional camera bag designs.
Pockets secure camera gear with large patches of Velcro. No zippers are used. You can add additional pouches and fit them to the shoulder straps (like memory card holders and mobile phone pouches) as well as on the waist belt, but be careful you don't loose function by placing to much or to large items on them.

Adjustable buckles and straps make for a one size-fits-all design that quickly adjusts to any body size or shape and will easily fit extremely tall or short, wide or thin people.
The adjustable straps keep you cool in hot weather and allow the Chestvest to fit over winter clothing when the temperature drops. It can even fit over body armour, but you might end up looking like a paramilitary with the black set so I would urge caution here and opt for the press looking Navy blue and grey set

Fabric is easily spot cleaned with cloth and warm water and is so strong the Chestvest will last for many years






Powered by ScribeFire.